Yahoo! Podcasts is out! Yahoo! too has joined the fray by launching its own podcasting directory and search engine.
The Yahoo! Podcasts clearinghouse integrates good search, the use of tags and an integrated player to stream any audio selected audio show in a matter of seconds.

Podcasters can submit their own feeds to the Yahoo! Podcast directory by simply copying and pasting their RSS audio feed here: http://podcasts.yahoo.com/publish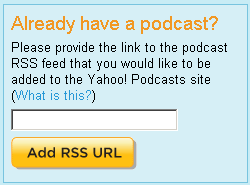 Also quite interesting is the parallel release of the new Yahoo! Music Engine. This is what looks like the Yahoo! version of iTunes. YME integrates podcasts, radio, music library, and all of the basic, popular functionalities have made iTunes popular. YME, though, only works on Windows PCs.
[More details about Yahoo! Podcasts]